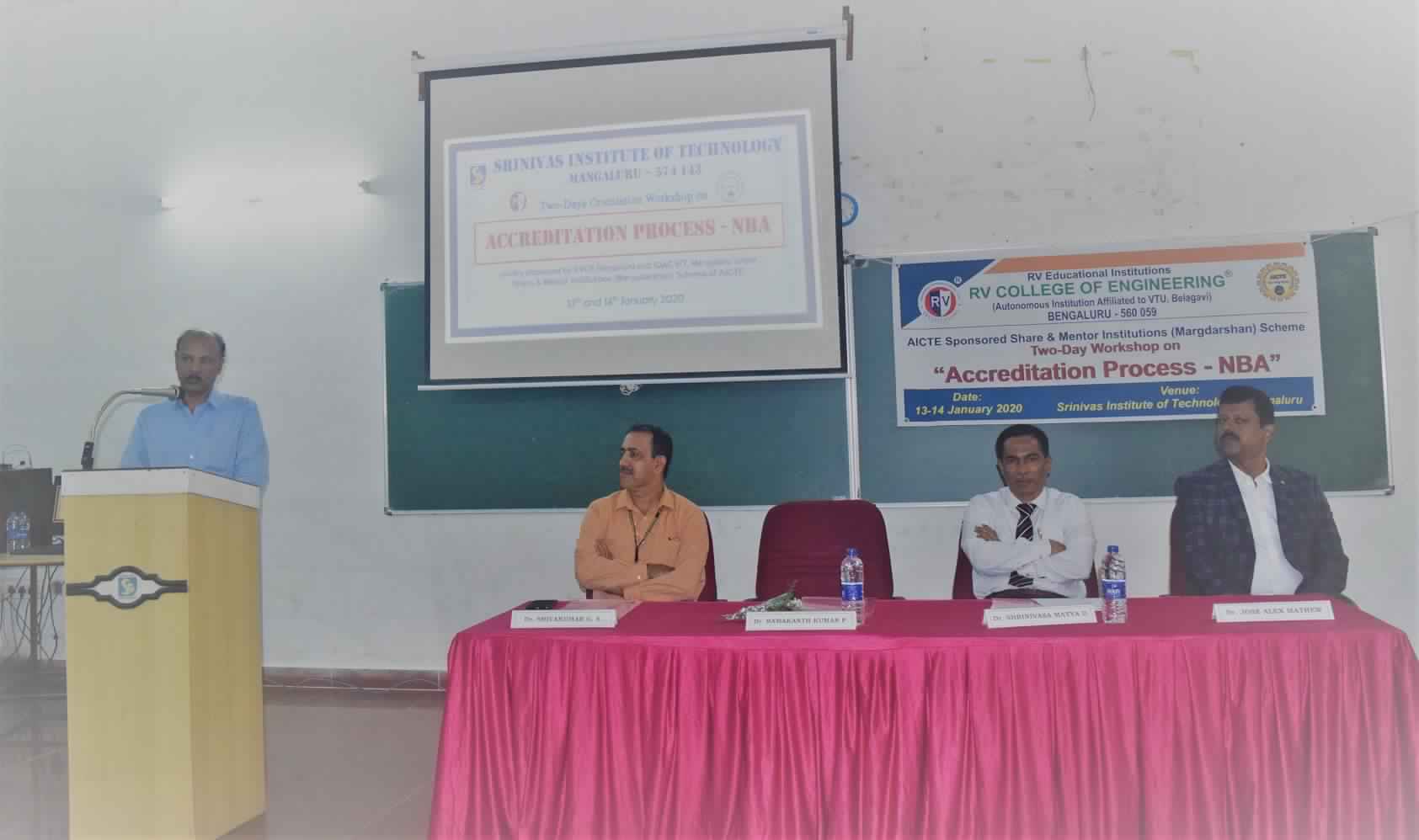 Two day Orientation Workshop on "Accreditation Process – NBA"
The inaugural function of the two day orientation workshop on "Accreditation Process-NBA"was held on 13th January 2020 at Srinivas Institute of Technology, Mangaluru. The workshop was organized jointly by RVCollege of Engineering , Bengaluru and Internal Quality Assurance Cell(IQAC) of Srinivas Institute of Technology Mangaluru, under Share & Mentor Institutions (Margadarshan) scheme of AICTE.
Dr. Ramakanth Kumar P, Professor & HOD, Dept. of CS&E, RVCE, Bengaluru, who is also the key resource person inaugurated the workshop. In his inaugural address he said that the process of continuous quality improvement promotes excellence in technical education. He stressed on the importance & significance of ICT tools in class room teaching.
Dr. Shrinivasa Mayya D, Principal of the college, presided over the function and motivated the faculty members to actively involve themselves in this workshop and enrich with the OBE process.
Resource persons Dr. KVS Rajeshwara Rao, Associate Professor, Dept. of IEM, RVCE and Dr. Shylashree N, Associate Professor, Dept. of ECE, RVCE were present in the occasion.
Around 120 faculty members participated and actively involved in the two days workshop.
The workshop was welcomed by Dr. Shivakumar G. S, H.O.D CS&E & Director IQAC and Dr. Jose Alex Mathew, Professor, Dept. of EEE delivered the vote of thanks. Mr.Vivek Vijay Kumar , asst.Prof. Marine Engineering dept compered the inaugural program
On day -1( 13/01/2020) Dr.Ramakanth Kumar presented the Overview of NBA Process and discussed in detail the Criterion 1- ie,Vision, Mission and Programme Educational Objectives .
Criterion-2: ie Program Curriculum and Teaching-Learning Processes and Criterion-4,ie Students' Performance was presented by Dr. KVS Rajeshwara Rao. Dr. Shylashree discussed Criterion- 3,ie Course Outcomes and Program Outcomes .
On day-2 ( 13/01/2020) Criteria 5 –ie Faculty Information and Contribution was discussed by Dr. Shylashree N,Criterion-6 & 7: ie Facilities & Technical support, Continuous Improvement and Criterion- 8 ,on First Year Academics was presented by Dr. Ramakanth Kumar P, Criterion-9 & 10 on Student support system, Governance, Institutional support and Financial Resources was presented by Dr. KVS Rajeshwara Rao.
A feedback and valedictory function was arranged at the end of the workshop, wherein participants felt that the workshop was well organised and the contents delivered was very much useful for the profession and accreditation process.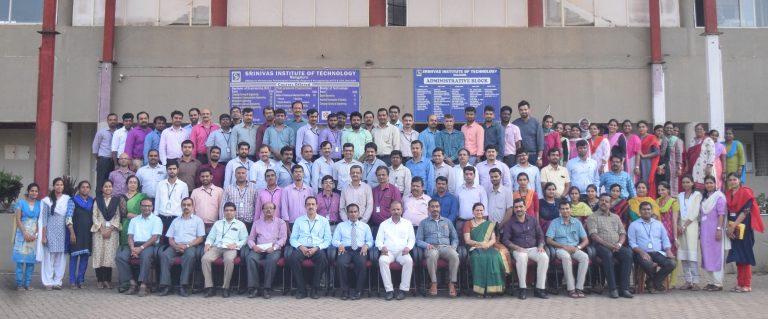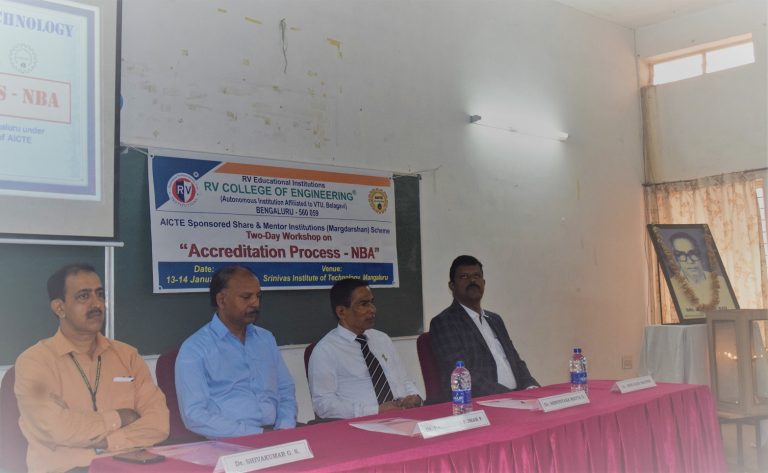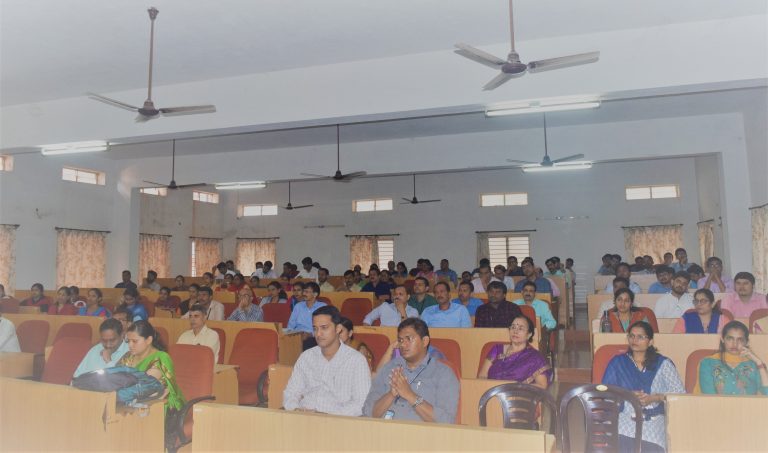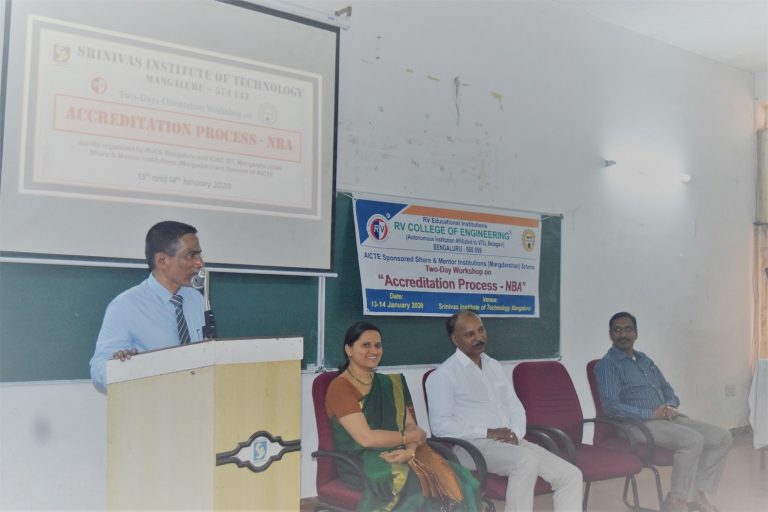 January 21, 2020 Posted By SIT